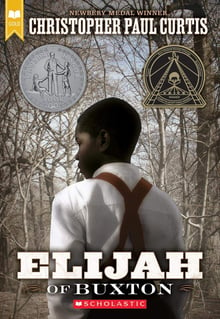 Chapters 1-4
Born in a Canadian settlement for runaway slaves, naive and well-meaning Elijah is forced to confront the realities of slavery when he attempts to recover stolen money that would help free a friend's enslaved family.
Start learning with an activity...
Practice

Answer a few questions on each word. Get one wrong? We'll ask some follow-up questions. Use it to prep for your next quiz!

Spelling Bee

Test your spelling acumen. See the definition, listen to the word, then try to spell it correctly.

Vocabulary Jam

Compete head-to-head in real-time to see which team can answer the most questions correctly.
Created on December 13, 2017 (updated October 18, 2018)