Don't Call it a Comeback! Join our Final Buzzer One-Day Challenge!
Get Your School Involved on April 28 for a Chance to Win Fun Prizes
And just like that, the 2021–2022 Vocabulary Bowl is coming to an end on April 30.
Closing Times
To celebrate the last week of this momentous season, schools across the map are invited to compete in a special One-Day Vocabulary Bowl Challenge on Thursday, April 28. The past seven months of the Vocab Bowl have culminated in the final and most exciting event of the season.
Not only can schools catapult themselves to the top of the daily leaderboards, they have a chance for a last minute word-boost in the final days of the Vocab Bowl. As students master as many words as they can on Vocabulary.com for 24 hours, schools can watch the word-learning action play out on the daily leaderboards.
Added a little mood music to our @VocabularyCom #VocabJam 6B @icschool_online pic.twitter.com/gV1GuitcaU

— Mrs. D'Angelo (@mrsdangelo_ICS) April 30, 2021
Awards
The schools that master the most words on April 28 and finish at the top of the Division I, II, and III leaderboards will be crowned the 2022 Final Buzzer Champions. It's a claim to fame which will earn them an official Vocabulary Bowl achievement certificate and hefty bragging rights. Certificates will also be awarded to the top 5 High Schools and Middle/Elementary schools in Division I, II, and III.
In addition to school achievement certificates, individual teachers and students have a chance to win fun prizes during our special Final Buzzer Vocab Jams.
Prizes will be awarded to:
The top scoring student in each Vocab Jam (see Jam schedule below)
The teacher with the most student participation in all of the Vocab Jams
Details
What:
Vocabulary Bowl Final Buzzer One-Day Challenge
Compete against schools in your division to take home the title of 2022 Final Buzzer Champion
Achievement certificates awarded to Top 5 High Schools and Middle/Elementary Schools in Division I, II, and III
Play in nationwide Vocab Jams for a chance to win fun prizes
When: All day April 28, 2022 12:00 a.m. — 11:59 p.m.
Where: Anywhere you are! Students log on to Vocabulary.com from any device to master words and earn points for their school.
Who: Open to all accredited K-12 schools in the U.S.*
How to Play: It's as easy as 1, 2, 3! See complete details.
For students who are new to Vocabulary.com, it's easy to create a free account. There's no cost for students to play, compete, and learn!
Make sure your learners select your school so the words they master count for your team!
Sign in to Vocabulary.com and click "Learn" then select "The Challenge" to start learning words and earning points!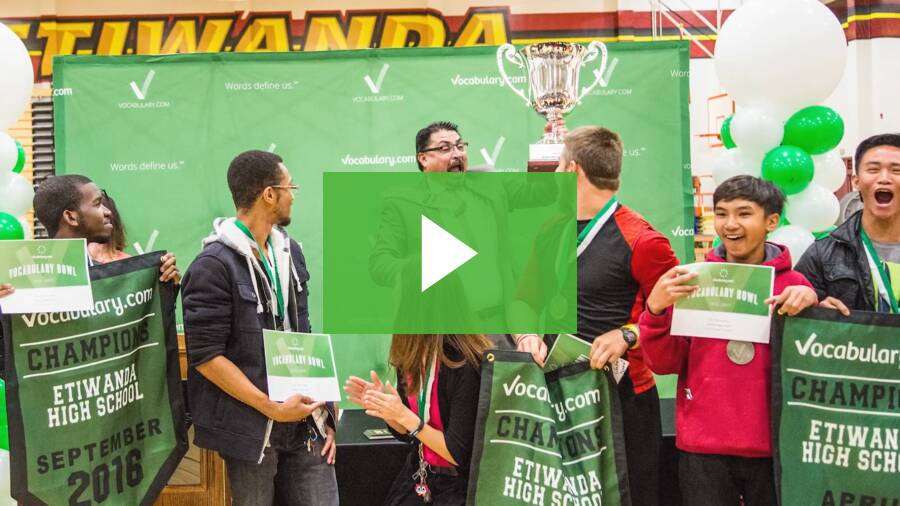 Want More? Host a Live Learning Event!
Vocabulary.com can also customize an exciting live learning event designed specifically for your school. Whether you want to build up excitement with some friendly competition or encourage learning when students are away from the classroom, our team can create a customized live learning event package.
HOST A LIVE LEARNING EVENT TODAY!
Follow Us on Social
*All accredited K–12 schools in the United States are invited to participate in the Final Buzzer One-Day Challenge. All accredited K–12 schools in the United States and Canada are eligible to participate in the Vocabulary Bowl. Learn how to play for your school, and read the full contest rules for details.
Have questions? Email bowl@vocabulary.com.